Powerful Search and Replace: TextSweep
---
Download Windows Version (64-bit only)
Easy Batch Search-and-Replace in Text Files
TextSweep is a simple but powerful application for searching and replacing text in multiple files, quickly and easily. Using an elegant, intuitive interface, TextSweep allows you to select a directory, specify which files will be modified, enter a search and replace term, and see the changes instantly.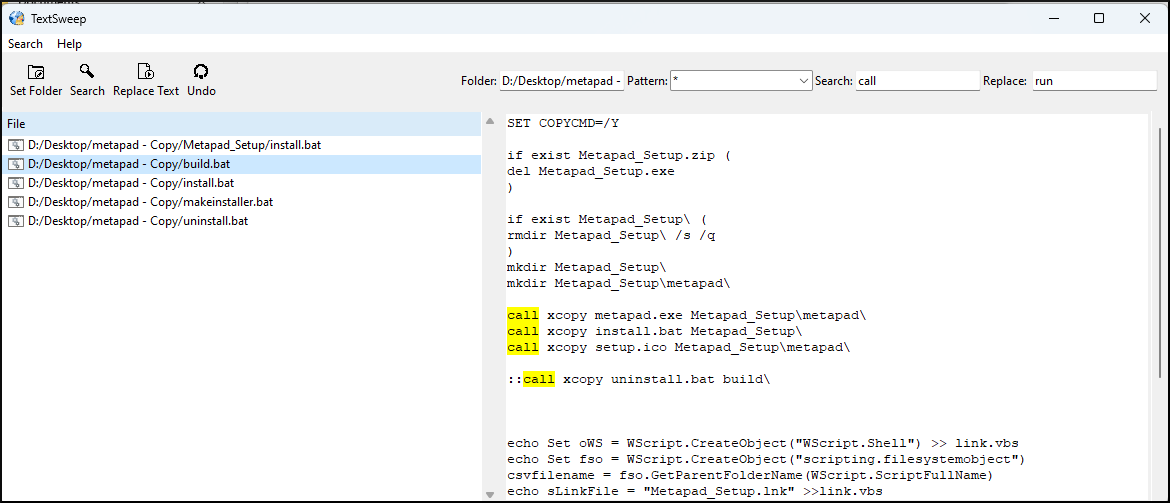 Why TextSweep?
Faster than opening many files in a text editor and doing individual search/replace operations.
More intuitive than other dedicated search-replace tools that feature an overwhelming variety of options and/or a complex interface.
Less error-prone than using command-line programs to do search/replace operations.
Thorough user documentation via the "Help" menu.
Highlight all search/replace terms in data display.
Safe to use because all replace operations are easily undone.
"A handy utility for those who want to parse multiple files and replace certain strings inside them."--Softpedia
Installing TextSweep
To install TextSweep download the latest version. It can be installed anywhere on your machine. Mac OS X 10.15 and Windows 10 are the minimum supported platforms. A donation will be requested to support the application's continued development.
What's New in Version 5.0
Major UI refresh.
Support for dark mode on macOS.
Streamlined Windows installation.
---
Text ©2020 WordTech Communications, LLC. See Credits for other acknowledgments.